This week I'm combining a PAST PROJECT UPDATE and a Favorite thing post...for Claudia's 'A Favorite Thing' Party
My Bathroom Floor-- I decoupaged it back in February, it is currently my MOST VIEWED POST and has been Pinned all over Pinterest.
I'm pretty proud of this project. I think I've got the biggest bang for my buck by covering my Vinyl floor with paper, glue, and polyurethane. You can read about that here--- How To: Faux Wood Floor-Decoupaged Floor
I'll add that since finishing my floor and posting about it... I ran a bead of caulk along the floor where it meets with the tub and trim. (can be seen in the above photo)
The only "wear" on this floor is right under the red step chair... that louvered door is the Hot Water closet...the door rubs just a tad across the floor. It has left a 'scratch' there. The scratch is just the upper surface of Poly being rubbed off when we have to open the door. That is not a problem...we'll probably be putting a couple more coats of poly down before it gets too cool out. Then of course well have to take a little off the bottom of the door, too.
Most days it looks like this in here. The Littles are here almost everyday. Extra towels, extra (small) potty...etc.
This floor has held up nicely to dirt, mud, grass, and water! The only bathroom in the house, right off the mud room and the MAIN changing area for SWIMMERS FRESH OUT OF THE POOL and CHICKENS!
I usually just sweep, then wipe with a damp cloth using Ms.Meyer's
'Lavender'
ALL PURPOSE CLEANER. Easy peasy!
**Affiliate Link **
Mrs. Meyer's all Purpose cleaner
It only cost about $30 to complete. It looks like wood. It cleans up pretty easily. No maintenance!
Now you can see why it is a favorite project...Don't forget to head on over to MHC and see what other's are talking about while showing off their favorite things!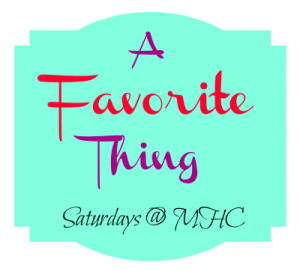 MHC
Oh give thanks to the LORD for He is good; His loving kindness is everlasting.
~Psalm 107:1
~*~*~*~*~*~*~*~*~*~*~*~*~*~*~*~*~*~*~*~*~*~*~*~*~*~*~*~*~*~*~*~*~*~*~
* by clicking on affiliate links (and making a purchase at Amazon) in the post or any other post on this blog you help this blogger earn a little bit of income for her family WITHOUT IT COSTING YOU A PENNY!