OR-
"Some More High Quantity Junk from my Barn"
I am finally getting somewhere in my craft space! Just looking at this colorful little cabinet; it makes me feel somewhat accomplished!
You may remember it has been stored in my barn for, I don't know 14 yrs? You first saw it here in my "
What's in my Barn?"
post
I brought it inside and having peeled the stickers off—You can see there are still some spots of glue dried on the thing… but, I knew I was going to fill the shelf with yarn---
so I'm saving the decoupage for a future date
!
Let's not quibble… you know what a procrastinator I am
!
I mean look at it!
It's just cute! I can live with cute. :)
Challenging myself to get some of these projects done from the barn is fun, but really,
I just love that I could reclaim this junk from my barn and this project
cost
me
absolutely nothing.
Not bad for Free!
...and I was also "Caught" @ MRL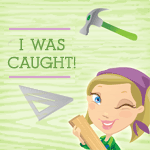 Til next time, Be Blessed!
Linking here: Tweak it Tuesday @ CLH
Furniture Feature Friday @ MMS
Catch As Catch Can @ MRL
*~*~*~*~*~*~*~*~*~*~*~*~*~*~*~*~*~*~*~*~*~*~*~*~*~*~*~*~*~*~*~
Be anxious for nothing; but in everything by prayer and supplication with thanks giving let your request be made unto to God; And the peace of God which surpasses all comprehension will guard your heart and minds in Christ Jesus. ~~ Philippians 4:6-7