I got a creative bug a couple of weeks ago. I showed you my
paper scallops
in the bathroom on the shelves
I also wanted to try making some paper flowers. Well,
really I tried to free hand a rose with a sharpie marker on the plaque below and it was a disaster!
So after I stenciled 'FLOWERS' on my de-coupaged burlap plaque … I ended up using book pages to make the two little flowers and hot glued them on here and covered up that monstrosity of a mess!
I must say, I like the simplicity of it. Just a spare piece of crown molding and some burlap and paper. I was going to put "fleur"… but I don't speak french…I liked the down home simplicity of 'FLOWERS'. I think it is the perfect addition to my wall of flowers; A corsage-collage wall …of sorts!
The oval on the left pictured here is a single rose and is something modern day. I picked it up for $.50 and had to re-glue it. It is made to look old, but isn't. The oval on the right is quite old…it is a piece of faded velvet with what used to be RED flowers painted on it. This came from my mothers house and I believe she got it from her mothers home. The frame is a very tarnished silver.
This wall is in my bedroom. I wake up to it in the morning. I like it.
It makes me smile.
This picture is actually a needle point piece done by my Granny …I have no idea when. If I were to guess I'd say over 20 years ago. I received it in the mail one day from Aunt some years after my Granny passed. She also sent an embroidered piece that was cream on ecru fabric of a Pineapple and the word WELCOME… my youngest daughter liked it and so after she married I framed it and she displays it in her home.


The other reason I'm showing this particular piece is there is a surprise behind the needle point and I am wanting to reveal it soon. It will be another addition to my collection of bouquets!




That's another day.
I'm linking here: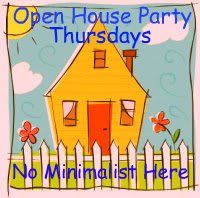 No Minimalist Here: Open House Party
The grace of the Lord Jesus Christ be with your spirit.
~Philippians 4:23