A Favorite Thing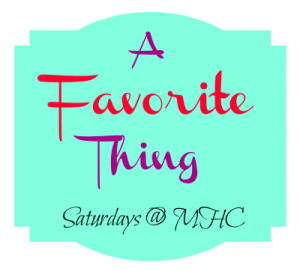 Our kitchen is a constant work in progress. For most of the time we've lived here---We hadn't done much to it. Only added in some furniture (there is a hutch to the right of the stove, The Honey built with the boys when they were younger) I've loved how useful it is. We've I've also painted in the kitchen. The thing is... I'm the one that does most of the work in this room... and finding storage solutions and work areas has been pretty much up to me.
When we bought the house the kitchen had; One long line of upper and lower cabinets , with a sink right in the middle and that was it. NO stove, NO refrigerator...not even ceiling fans. There were two lone lights... I won't even call them fixtures
Very utilitarian... So gradually we've been working on it. More so in recent years than before. It's starting to come together and take shape. I'm really starting to like my kitchen more and more with each little project. We work on it when we can-- making changes here and there. On a very strict budget.
One of the favorite things in my kitchen is the stove. I've written a post about 1956 Chambers Range here
This is what my kitchen looked like before 2010. So glad, I finally found some more of the yellow and red fabric and made another curtain to match the hutch and the one over the window.

:)
Here it is today. The mantle was based on a copy of a kitchen on a magazine cover.
It makes such a statement over the stove now. A focal point for the stove and all. When we built it; I had found a gallon of black Valspar paint on the Ooops! shelf at Lowe's. That was the deciding factor for me, when it came to painting the lower cabinets. I decided it would help everything tie in together. I still need to paint the uppers a fresh coat of white. I like the look of it together. I'm very happy with it.
I'll tell you a little secret. The table to the left of the stove...is stainless steel. The Honey was in the sheet metal trade all his life until he retired. It was left over from his days in the industry. If a piece had a "ding" or "dent" ...it was no good. You couldn't send it to the customer like that.
So I had this little table. One day I decided to use it.
The cabinet on the end was just used for storage... and I needed a work surface near the stove. I took the door off the cabinetry and covered the cabinet where the drawer and door had been with a bead-board paneling scrap. I put it (table) in here after building a small box or platform for it to be level with the counter and the stove. Then I shoved and pulled and pushed that heavy stove over toward the table a whole 8 inches. Yes folks... 8 inches is all it took to make a difference in the foot path of my kitchen. My work triangle is complete and works so smoothly now!
I also have this little vintage set of aluminum canisters. They are pretty old and have an art deco vibe to them. I used to keep junk in them; never coffee, tea or flour. Until I started re-arranging the stove and hutch ...and one day I just decided, 'Hey, I think I'm going to use these for their intended purpose." Otherwise...they were just clutter. I put them in this wine crate, my mom picked up years ago off the curbside.
I guess you can say this little corner of my kitchen is my favorite thing; so that's why I'm sharing it this week. It really is... I have such memories with my $100 stove and my 'Mantel Project' one of our first projects after The Honey retired, and my canisters and crate... All together, it makes me smile!
Don't forget to hop on over to Claudia's Favorite Thing party
Thanks for stopping by here!
Oh give thanks to the LORD for He is good; For His loving kindness is everlasting. ~Psalm 107: 1