Well-- it's getting easier... Now, if I could just get ahead by 1 week! I could possibly get this thing posted by Sunday night! That would be perfect and I could get it 'scheduled to post' and not have to think about it!
I'm such a procrastinator. (but you knew that, right?)
On the bright side~~ just doing it, is helping TREMENDOUSLY!
I think we're saving some money AND supper time isn't a surprise or a dreaded issue.
I remember when the kids were home still and Honey worked---I just dreaded the phone call before 3:30pm -- the one that ended with, "What's for dinner?"-- ack! (followed by mad dash to the kitchen)
The only thing worse than that question was, " Do I have clean work jeans?"
Here's this weeks' menu--
*** APRIL 9-15 *** This menu is edited heavily due to unexpected events.
Monday:
Fresh fish, Taters and Cole Slaw
Tuesday:
Rice,Broccoli and Oven Fried Chicken (1 dish)
Wednesday:
Leftovers Ooops! Our anniversary 29 years!!! Had dinner at our favorite Burger Place.... (I didn't forget our anniversary; just forgot to plan supper)
Thursday:
Dinner at His Sister's --
Mini Meatloaf sandwiches ON THE ROAD…Dinner at SIL next week…well, this week now!
Friday:
Mini Meatloaves (from the freezer) and Veggies
Love and Respect Conference—Breakfast for dinner at home.
Saturday:
Crockpot Stew
Love and Respect Conference
(small group study @ our church) —They fed us delicious Bar-b- que!
Sunday:
Leftovers--
I hadn't cooked all week so there were NO LEFTOVERS!
Made Spaghetti with Asparagus and Corn; Iced Tea and Peanut Butter Cookies
I'm thankful to God-- He straightened me out in some areas. In others--- well, He's not finished with me yet!
~*~*~*~*~*~*~*~*~*~*~
warning:
NON-SEQUITUR PHOTO TO FOLLOW! *~*~*~*~*~*~
'SHABBY DOOR STOP'
Go out in the yard, take a brick;
bring it in the house
wrap strips of an old sheet around it.
Put it on the floor in front of the kitchen door (the one that slams shut on a windy day, causing One to jump from One's own skin)
--TA-dah! shabby door stop!
Faded Charm: White Wednesday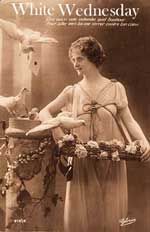 The grace of the LORD Jesus Christ be with your spirit. Philippians 4:23