You may have seen some of the lovely
YARD SIGNS I posted yesterday
...showing the inspiration for my own yard sign...
I thought about doing something like this...
But SERIOUSLY... someone would probably drive by and think it was FREE FOR THE TAKING and
accidentally
STEAL MY SIGN
CURB-SHOP MY SIGN.
Because everybody knows a good pallet is hard to come by...!
So I had to make an address sign that looked INTENTIONAL AND HAD PURPOSE...
YES! Completely recycled and totally free!
I thought it turned out OH! SO CUTE.
Can you tell what I made it from?
Any guesses?
I think A Grill off an old truck would be perfect for something like this too...but I didn't have one of those.
If you leave a guess...You CAN'T SAY "TRASH"...cause that's just cheating. ;)
** NOTE: You can see a before here (Potato Tomato- Potato Tomato)
I'm joining here:
CLH: Tweak it Tuesday #48
And here @
Catch as Catch Can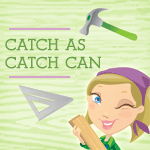 ***Hoping the Trash Man doesn't take my sign! I wired it to the fence. :)
And let us not be weary in well doing for in due season you will reap, if you faint not. ~Galatians 6:9