It's a sad day in our home and in the coop.
The old gal, Audrey was found dead in the coop this morning.
There were no signs of disturbance and no signs of struggle.
We think she just got old, laid down her head and died.
This is Audrey.
She was one of a pair of chickens.
Not just any chickens.
Our first chickens.
This is Audrey and Jayne the first day we brought them home to the new coop.
Yes, Audrey and Jayne...
I name my chickens after Old-Time TV personalities. :)
She was such a gentle chicken. She would let me hold her...sometimes.
But when I'd feed them raisins from my hand...she would hang back and wait; then gently come and take a raisin from the palm of my hand.
Sometimes, I don't even think she knew raisins were being handed out...she'd be off by herself, exploring the pasture and looking for a choice worm or two.
Our nic-name for Audrey was 'dumb-blonde'~
On occasion we'd all be outside and she'd be off...who knows where?
INSIDE?!?!
Here she is in the mudroom.
...and again. Inside where she's NOT supposed to be!
She was often times where she shouldn't be...
She knew where we kept the snacks...
She was full of funny little antics...
She'll be missed.
Tilly's Nest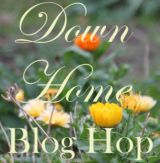 Oh, give thanks to the LORD for He is good; His loving kindness is everlasting.
~Psalm 107:1