OR…
ANOTHER BIRTHDAY ANOTHER PROJECT
*** edited to say: I was caught this week here!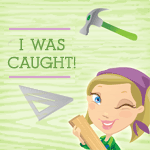 It's a good thing I like PROJECTS!
It's an even better thing to have someone to GIFT them to AND HAVE LOTS OF OCCASIONS!
I had a birthday coming for a little girl—and a TOM-BOY at that! What to get her? What to make?
I haven't had the resources to prepare for her party—in fact February came and went; and one of my LITTLES had a birthday… and well, being flu season, new babies born…lots of different factors. His parents opted out of a party this year. So I didn't even make a present for him! I bought him something and I gave it to him today! 1 month later. He didn't mind one bit! He loved it. I do have a project in mind for him and am going to be working on that one soon.
Some may think it's over kill to make presents for people. But most of the time—the receiver of the gift LOVES IT!
SO… back to this little girls gift!
I got up early Saturday morning and hit the thrift stores bright and early in search of a large frame—to make a chalk board. I found one marked $12.99 – but it's been in the store since September last year, the guy offered it to me for $9—I jumped on it! My limit for the kids gifts is about $20—since I had everything I needed to make the conversion. I came in under budget. YAY~
The mirror was in almost perfect condition. In fact it had a nice enough frame; that really, I wouldn't have to do anything to; but, since it was going into a child's room--- I wanted it to be FUN!
I took the mirror out. ** NOTE TO SELF—research options for SPARE MIRROR, NO FRAME!
I did all this late Saturday evening… including crocheting little flower bunting while watching British Comedy on PBS! Cut the masonite backing down to fit inside the frame to replace the mirror. I discovered last night about 11 pm—I was out of CHALKBOARD PAINT—so I used Clark and Kensington (primer- plus paint) in black, dries flat. Worked fine.
FOR THE FRAME: Painted it TURQUOISE/ AQUA with Valspar paint sample (by the way, those little jars of paint- go a LONG WAY!) Sorry, I'm not sure of the color, I bought these off the Ooops! Paint shelf at LOWES.
WAXING THE FRAME: I mixed Minwax Finishing Wax and paint
2 tsps of NAVY BLUE VALSPAR paint sample
1/2 cup Minwax Finishing Wax
RUBBED IT ALL OVER THE FRAME—let dry a couple of minutes ( I was working under a fan so it went fast!)
Buffed it to a shine…
Added tray for chalk and hooks for the bunting and the matching soft eraser—another use for crocheted scrubbies!
Wrapped it up and away we went to the party!
Do I have to even tell ya?! She loved it!
Gift giving is fun! Making and personalizing a gift to suite someone's taste--- is LOTS of fun.
Having the gift ready and set to go DAYS BEFORE THE PARTY?
I have no idea what that's like. If it weren't for the LAST MINUTE AROUND HERE… nothing would get done. It's true.
I didn't jump in the bounce house, or kill the Piñata… but I did get my picture taken in the Ninja Turtle Cut out…
See if you can tell which Ninja Turtle I am?
'Til next time, be blessed!
Patricia
**********************************************************************
linking here: