*Edited to say...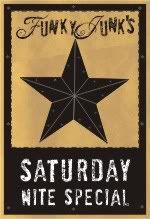 *** Back to the regularly scheduled post!
This week I've been checking out a lot of the other blogs and finding lots of inspiration. I thought I'd share with you some things that have caught my eye.
It doesn't matter how many blogs you find with the same subject matter-- each person puts their own personal touch on each piece. Even if you're looking at a
Fake-Over
, as I like to call it, --I haven't seen many that look
identical
to even PB or Ikea any other national brands.
This week for me I've been looking at storage /display solutions.
Because well, that is what has held my attention
(which sometimes is short and other times is like a '
dog on a bone'

Here are some random looks at various bookshelves, hutches, and display shelving that I find interesting or otherwise inspirational.
Maybe you will too... check 'em out!
Domestically Speaking-
Ikea shelves turned Built in Entertainment Center. This turned out so fantastic. I like that they are painted white and look so crisp.
Buffet Hutch Plans
Great Plans-These were built from the ground up- more adventurous than I could possibly be-- but way cool! This is a relatively NEW BLOG...
but who has time to blog when you build furniture from scratch.
I really like the paint and wood tones too.
Window Hutch
This is just the coolest use EVER for old windows. I WANT ONE!
Shabby but Chic Hutch
This is a shabby beauty and a great buy at $40-- I love that she made this look like a family heirloom for so little money. And it is just plain pretty!
bobby pins boardwalk
My greatest inspiration yet. This project is what got me going for my own home library. Possibly turned sewing corner.
I'm hoping to implement some of these ideas and create some of my own ... on my way to becoming beautiful and organized in my home.
The best thing about most of the projects around my home right now is that I have lots of bits and pieces that I've collected over the years with out DOING; Now is the season of DOING for me and so at best most of these projects will be low cost.
So from the bottom of my heart.
Y'all keep posting!
You have given such inspiration.- I can't keep up.