INSIDE:
I bought this medicine chest about 1 year ago... it was in the 'Guest Room' amongst the other piles of stuff I showed you earlier this week.
I think I might have paid $10 for it. The door was missing.
It was probably not the best deal...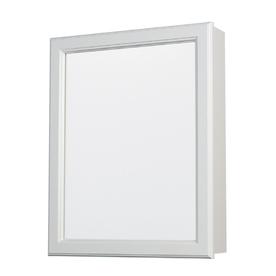 Cheapest one at Lowe's was $31...
So...cheaper than brand spankin' new... and I liked it for it's cottag-y vibe.
The pieces for mounting the door back on were broken so we had to NOTCH out for hinges.
By WE... I mean ...HONEY... I could do it... But I tell you the TRUTH... if I start a project at my house...he is on top of it... and, Well, before he retired... He was Shop Foreman. ~B.O.S.S.~
I'm just the crew photographer.
Here it is on the wall. I didn't mount if over the sink because - the mirror was too small. But I needed the storage. This took the place of a small round mirror I had here previously.
It works. AND!!!
It only took 1 year-- and Household Guest...(wink)
OUTSIDE:
The LETTUCE , BEETS AND BROCCOLI bed.
The LONE-SQUASH... in the lettuce bed.
The Potager: Herb bed. CLOCHES a.k.a.-- POP-BOTTLES. I have little tiny pepper plants under there. They still need some protection from the elements. I hope this works!
AND NOW! I give you ....
laying boxes!
YES! WE'RE busy getting ready for CHICKENS! I'M SO EXCITED TO GET ME SOME CHICKENS...
We built this mostly from Free plywood, siding, lumber and pallets.
This is the chicken house. Now this isn't complete. We've got to get chicken wire... I've been checking FREE CYCLE AND Craig's list for wire and any extra lumber that people maybe casting off. Oh, and either shingles or metal for the roof. We'll see what we get.
Honey has been working with the Son-in-law this week and will be bringing home some more pallets on Friday.
And this is another POP BOTTLE recycle project...
Humming bird Feeders.
They work too!
See...
Our first humming bird of the season.
Don't forget about Farm-girl Friday... you can click the photo to get there from here.
God Bless You
and
Thanks for Reading!