THIS PROJECT HAS BEEN CAUGHT
My Repurposed Life -Catch as Catch Can -68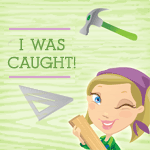 …as seen EV.ER.Y. WHERE… but I've wanted to do this project ever since I saw
Roses bench
…before Rose EVEN HAD A BLOG!
That's right-the original (as far as I'm concerned) Rose made a bench and
Gail at My Repurposed Life
… posted about it
here
.
Now Gail is the
"Queen of the Bench Seat and Bench Seat Designs"
in my opinion AND~ A whiz with the Kreg Jig. She can really work that thing. I've been wanting one and finally got it and used it on this project. I had a terrible time with it. Not The Kreg's fault…NO. Not saying that at all. It was just our first go around with it. Probably should have started out with something a little easier.
AND! read the instructions thoroughly PROBABLY WOULD HAVE HELPED,TOO.
You can see the front wood piece on the middle chair. Well my attachment wouldn't fit inside the chair to get it to screw in…so we made our holes on the outside… you can see them there. Some reason—the bench torqued /twisted AND THAT the foot shown here doesn't set level or touch the floor. It just doesn't set right. Well it didn't. It sets alright now. But it took some FINAGLING. Oh, and then there was the gluing the little pegs in to cover the holes. That was a mess. Needless to say—I'm glad it's going against a wall and the table will be in front of it.
Here it is in my dining area of my kitchen. I'm trying to decide do I want two small pillows (these will be recovered)
Or…one long pillow. This is just a bed pillow… I'm eyeballing—nothing settled yet.
But I wanted to show you my bench. I'm pretty pleased with how it turned out over all. I'm eager to jump back in and try the little Kreg, jr. again. I think I've got some experience under my belt now. It's bound to get easier.
LINKING HERE: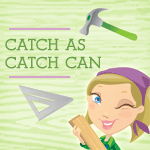 I told you my word for the year was ATTITUDE, right?
This is all part of it.
Now see? You can't even see all the issues we talked about previously.
all better~
The grace of the Lord Jesus Christ be with your spirit.
~Philippians 4:23