Linked here:
Catch as Catch Can
76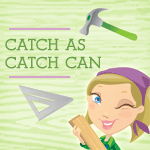 AND I WAS
CAUGHT
TOO! such fun and lots of great ideas at this party~~~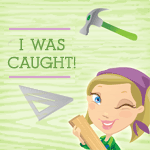 FJI -SNS 136
and
FJI SNS 176
(nothing is flowering in this pot yet...but soon!) Besides...who says foliage isn't important,right?
~*~*~*~*~*~*~*~*~*~*~*~*~*~*~*~*~*~*~*~*~*~*~*~*~
A couple of weeks ago I showed the
CRACKED POTS
I was able to salvage from someone's land clean-up.
YAY! I was super excited to get them...cracked or not. But I already had a hanging pot.
You can read about my
Momma's Wash Pot
...if you click that link.
In fact around here---everyone has a hanging pot in their yard it seems.So I wanted to do something different with these and seeing how they were broken and free...what did I have to lose?
Here is what I did with them.
This is how I did it. Many photos to follow.
We cut one leg off the tripod. Drove it into the ground. After digging a slight hole, in the flower bed, we placed the 'cracked pot' into the recessed hole. The second pot that had more damage
including holes, cracks, welded parts and bolts attaching the lid and things-- was dismantled.
We removed the lid and handle and were just left with a 'hole-y' pot.
We then threaded that leg of the tripod through the holes in the pot and brought it down to rest on the first one in the ground.
Here you can see the pipe/leg going through the hole
Some of the bolts were so rusted that we left them on the inside of the pot. I used the bolts to hold the chicken wire I was inserting in the front. Since the pot would be on it's side, there was no way to hold the plants inside. I wanted it to LOOK as though it were spilling over, not ACTUALLY spill over.
I got the chicken wire laid in the side of the pot the best I could using all the rusted bolts available and sort of just wrapped the wire around each bolt. I bought a couple of PEAT pot-liners at the Dollar General and cut one in half.
Then I laid it on the inside of the wire bowl.
I also took a bag of potting soil and poked holes in one side
and ripped the top side open after placing it inside the wire and peat liner I was able to plant inside-- the bag helped to keep the soil from washing right out of the pot.
Initially, I transplanted smaller plants I had started from seed thinking these would bloom and create a showy display of color and vines. I also planted a 'LOST' tomato plant that was randomly growing outside the garden areas.... don't know how; But one day there it was!
Well, the chickens picked me clean and ate everything but the tomato plant.
Some friends gave me an entire bucket of very well established
Sedum
with the exception..."would I please return the bucket?" ...because it wasn't theirs. So that is why there are not any Marigolds, Morning Glories, or Moon flowers or Zinnia growing in my pot.
Only Sedum and one Lone- Lost Tomato plant!
The sign I made with the help of my Grand-daughter this is actually part of a pair of signs we painted one day using scrap plywood-- destined to the burn pile!
I told you... I'm a rescuer of junk. ;)
The frog was broken--- he had a Lily Pad on his head for bird seed. It broke off. So I crocheted him a straw looking hat and hot glued it on his head. He sits inside the pot ...keeping sentry over the Sedum...and I think he is helping to deter the chickens from eating this plant now!
Who'd of figured on a Guard Frog-- keeping them out of my Stacked Pots?
Maybe I should make a warning sign-- letting people and chickens know that my stacked pots are protected by a 'Guard Frog'...that's another day!
The Grace of the LORD Jesus Christ be with your spirit. Philippians 4:23