Last week I showed you the down and
dirty part of my kitchen sink
...the scary underside.
So I thought, this week, I'd show you my favorite part about my kitchen sink... the cottagey pretty side!
It is the window!
Seriously, when we decided, over 17 years ago, to move to the country we sat down and made the list of things we wanted in a house; one of the first things on my list was a window over the kitchen sink.
Sure, we had other things on the list.
He wanted a garage...he settled for a barn
I wanted 3 bedrooms.
Check!
I also wanted 2 bathrooms. We settled for 1...and believe me raising 5 kids in our house with one bathroom...wasn't easy at times. But... I got my window and my house in the country!
A place to raise our 4 kids...his daughter came to live with us after we moved here. She hated it.
...But we're not talking about that right now.
Right now, we're talking about my kitchen sink and window!
From here, while I'm

SOFTENING MY HANDS AND DOING THE DISHES

,

I can see the Oak tree, that used to be barely big enough for shade. It has grown quite big now, and makes a nice place to drag a lawn chair and sip a glass of tea.
A couple of pretty things on the window ledge.
One being a gravy boat.
I bought this gravy boat because it was WHITE AND CHIPPY; and I bought it with one thing in mind...
A pretty place to set my drain plugs. I know... Kookie... right? But isn't it pretty!?
A dainty dish for an everyday item.
And the smiley face rock. My step daughter brought that to me years ago...a gift, she'd made at school. :) For my cottagey country window.
The other dish... and ARNEL'S pitcher. It is chipped and broken, also. But I don't care. I bought it at a thrift store years ago...for the pretty green color. The handle was broken and glued back on, but I liked it. I keep my scrubbers in there and in the Kerr™ quilt patterned jar, I keep twisties from the bread bags! Do you keep those little things? I do, I use them for so many things!
One of the favorite things I can see and smell from my kitchen window... This rose bush! It is blooming like crazy out there and when the wind blows just right, it smells divine!
Growing up,
Our kitchen window
in that house
opened up and you could see from the kitchen sink...a cow pasture; and you could also see the yellow and white blooms and smell the sweet fragrance of Honey Suckle.
In my married years
, I've not had many houses with windows over the kitchen sink. Growing up with one, I'm fairly certain is part of the reason for this MUST HAVE for me in this house.
A few weeks ago... I shared some of the
vintage potholders
I've collected some of the more recent ones I purchased. I didn't know what to do with them.
Several of you suggested that I create a banner of sorts with them. But where?
I put them over my sink!
Something else pretty to look at while I'm SOFTENING MY HANDS... WHILE DOING THE DISHES!
I had already had a few pinned to the curtain, so I took them down and washed them all at the same time and created this little clothes line and hung them back there.
I guess I've shown you all around the sink. I've shown the view from my sink, the dainty dishes at my sink; I've talked about the wonderful smells at my kitchen sink and I've shown you my collection of potholders above my sink.
The only think I haven't shown you in this post...
Is the sink!
I think I might have shown it to you before. It's nothing special really. Just a sink. But to stand there and gaze out the window, that is my favorite thing!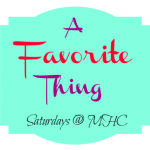 MHC
Let us not be weary in well doing; for in due season we shall reap if we faint not.
~Galatians 6:9