This post was featured here: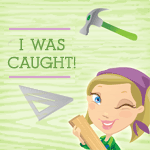 Thanks Gail! @ My Repurposed Life
You would think I'd be able to find cord lock and pulley just like the ones I used for my shade. I looked online and I also looked at Lowe's in both places had similar cord locks and pulleys but none just like what I have here. I'm going to attempt to give a short tutorial on how I made my shades. But I'm using these cord lock and pulleys.
For this project I recycled parts from match stick blinds I also recycled the drop-cloth curtains that I made some years back for my living room.
If you're recycling parts from blinds like I did, you may need a drill and bit…these were pop-riveted together. You just drill through the pop-rivet and the pieces come apart.

I cut the fabric to width; I wanted my shades to fit inside the window frame, rather than over lap. After removing the border and the header on these Drop Cloth curtains I decided to leave the shades the length that I had left, on the fabric.
You would need to measure your window and cut your fabric to fit adding about a half inch on each side for seam allowance.

After I cut my curtains down to size—I ironed and hemmed the edges. I only had to do this on one edge for each shade—because I incorporated the factory edge into my shade. Makes for less sewing that way!
I attached my pulley and cord lock to my bamboo rods, making sure the cord lock assembly was on the right hand side of the shade.

Then measured for each pulley on the shade and made button holes for the the hanging tabs to fit through. This will help prevent tears.

Next is the CORD ASSEMBLY. Most people find this a bit fiddly. SO… I took lots of pictures; hope it helps.

You need two pieces of CORD for each roller blind. (mine is recycled from the match stick blinds
I'm not giving exact measurements for the cords because it will vary according to length and width of your shade.
For roller blinds the general rule for pull cords is:
For a right handed pull cord: the left pulley cord needs to be approx. 2 x the length AND 1 x the width Plus enough to draw the cord with about 18- 24 inch is usually sufficient.
The second or right pulley cord needs to be 2 x the length and an equal amount to left cord for drawing.
Starting with the left side cord - thread cord up through right side pulley


-across to left side pulley



-down length of shade, up the back; you're basically making one big loop!



-tie pull cord in place. ( my pulley had a two rings 1 for hanging/ wall mounting and 1 for fastening the cord ends)
If yours does not have this you can sew a couple of 'D' rings to the top back of your shade for cord fastening and hanging.


FASTENING SECOND Cord:
-thread cord through pulley from right to left – a pair of tweezers comes in handy for threading the pulleys.


- run cord down length of shade
- run cord up back of shade – another big loop!



- tie to ring



At this point you should have two lengths of cord for drawing the shade hanging to the far right of the shade.


And that's it!
You'll notice this last picture—I'm not using bamboo. I ran out. So I used a piece of pvc pipe I hoarded stashed. It's ok, because that shade was a big wider anyway—it doesn't matter, once they're hung you can see what's holding it up there!
… and now I have this!

PIN IT!
My Repurposed Life - CaCC
'Til next time, be blessed!


Patricia




~*~*~*~*~*~*~*~