The More they STAY THE SAME. Isn't that how the saying goes?
Recently while cleaning out my Utility Room and getting it ready to become my 'new' workroom / Laundry Room/'Place to Create' (thanks to Donna @ FunkyJunkInteriors)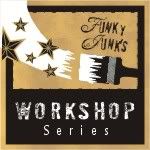 I came across this magazine.



Spring issue 1987




Better Homes and Gardens


DECOR

A

TING

No! I didn't save a magazine for 23 years. I found it in some stuff from my mothers house that I brought to my house after she passed 10 years ago...(no, I didn't save it 10 years either, I brought to my house after my dad sold the house 4 years ago!)

Anyway...enough about my obsession with magazines.
Let's take a peek at Greatness!


* EDITED TO SAY: you can click the picture to enlarge
I love this little sitting spot. So cozy. The color on the walls.
Looks familiar, huh?
So close to the cottage-y blues that we are seeing so much of today.
The yellow is just so cheerful.
AND!!!!
how about that nice crown molding?
The fabric tablecloth and the bamboo roll-up shades
Softness mixed with texture.
Isn't that what we're after, today?

Now, how about this kitchen?

I love the roughness of the ceiling. The exposed beams.
This is such a summer kitchen; I love it!
The Light fixture-
sure, we see some of that now days , right. Only today we'd spray paint it
BLACK or O.R.B. (oil rubbed bronze)
The wall paper would be different too... but for the most part
Who wouldn't love this kitchen with its exposed beams,
wood floor; and mixed counter tops,
(tile on the island and marble next to the stove).
This kitchen is complete with
pot rack, plates and prints of veggies and fruits on the wall.



And lastly... The porch.

Now, with the SNOW sweeping the nation and covering
everything, doesn't this porch look so inviting.

Don't you wish it was that time of year?
...and you were here enjoying some lemonade or a nice glass of iced tea?

If it were me, I'd be here sitting on the settee enjoying iced tea, and looking at the latest issue
(or the long lost issue in this case)
of Better Homes and Gardens, of course!



I've selected these photos just to show how we haven't changed so much.

There are some photos in this magazine that are just plain 'painful' to look at...
for fun tomorrow- I may show you a few.

I'll give you a hint.
There is the classic 'southwest motif'
the peaches and cream colors, and
the chunky overstuffed sectionals.

I shudder to think about it.