I have a little crate.
Its an August Sebastian Country Wine crate.
It was curbshopped by my Mom before she passed away...years ago, in fact my kids were little. I think I only had 1 at the time! Gosh, that was a long time ago.
Anyway, I've used this little wine crate to hold a chicken knick-knack collection, video games (in my boys' room) , dvds,
and now
my old canisters.
Can you spot a difference?
Remember the little song, from Sesame Street...
'one of these things is not like the other, one of these things just doesn't belong...
I only had a set of 3 canisters. I had a tin I've used for years for filters, so the day I decided to hang this crate... I spray painted my 'filters' can with EL CHEAPO silver spray paint and stenciled 'FILTERS' on it. I also found, in the pots and pans district of my kitchen, an old skillet lid with a black knob (AND NO SKILLET) and unscrewed it from the lid, drilled a whole HOLE in the lid of the tin and --TA-DA!
*
edited to say-- how many times must one misspell 'hole', before speller checker tells you, 'Hey! don't you mean HOLE?' This concludes this portion of blog reading otherwise known as a RANT! thank you.
NOW... it is a subtle difference. QUIRKY yet interesting; and gets a giggle when someone notices!
It usually sparks conversation in the kitchen--- which is where all the action takes place, right?
And then there is this! My 'mag-wagon' I call it. Just in case you've not seen it... I thought I'd show it again. You can see the full post here.
I'm linking up here...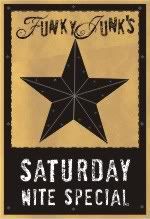 Check out the party and the other party goers at Donna's FJI--SNS #34
God Bless you
and
Thanks for Reading.