This is another post from MAY BLOG-CATION---
I may have been away from the blog-spere for two weeks; but stuff was happening!!
I painted them BLACK with DIY Chalk Paint. * I happen to use the 2:1 ratio of Paint and Plaster of Paris-- I also wax it with Min wax for protection, and sheen!***
Just out of curiosity-- Have you EVER SEEN BLACK Ooops!Paint, for $5 a gallon?
It is rare-- but that is what this is, Yep! Ooops!Paint.
I was amazed. I grabbed it up fast.
Anyway-- these chairs are similar but they are not exactly the same.
They almost match the 3 chairs
from the
bench
that I made.
(those 3 matched each other).
:)
I've been collecting this 'style' of chairs for a while. On average,
I paid
about $5 dollars a piece for these chairs, too. Deciding on the the color to paint-them was the worst! I've told you...
I'm indecisive.
But the BLACK Ooops!Paint---clenched the deal.
Black it is! Now they co-ordinate.
But then, you knew MATCHY WASN'T MY THING, RIGHT?
Linking Here:
CaCC #78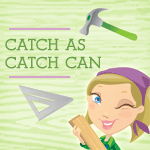 The Grace of the LORD Jesus Christ be with your spirit. Philippians 4:23