Linking here: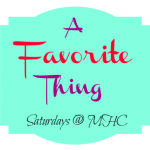 and here:
and here:
One of my favorite things lately has been to fidget with the shelf in the dining part of my kitchen.
I showed you my
clock make over
. I had fun with that. I put it on the shelf
...with my St.Valentine's decorations.
I put some of my old dishes back on the shelf. These originally had belonged to my Great Grandmother on my Dad's side... they were handed down I guess you'd say. Now I have them. They look sort of pink here...but they are actually red.
The crocheted doily is one I picked up at Bargain Land quite a while ago.
I had intended to resell it ...however, one of my LITTLES (Bree) decided it made a wonderful princess hat...so when it's not on the shelf; she is usually wearing it on her head!
I also was playing around with book pages the other day; and I made this little banner for the shelf too.
I had bought the
glitter
in January for
the grandson's birthday piñata.
I didn't use it and was going to take it back along with some other things I had no use for...but decided to keep it. It wasn't long and this little project POPPED into my head!
I like using what I have to create something fresh and new!
It's a cheerful spot in my kitchen...
I've posted twice today--- so don't forget to check the previous post to see
the winner
for the HOMEMADE SOAP SUDS and Shower Scrubbie give away!
So teach us to number our days. That we may present to you a heart of wisdom. ~Psalm 90:12