Not too long ago, I was reading here....
Carol shared
a list of creative projects she had pinned on Pinterest
that she was feeling compelled to try out now that she had some free
time on her hands
.
Her list is quite extensive as she is going to do this for 30 days and is well on her way to a great start.
Well... needless to say, I left Art and Sand that evening..
.feeling quite PIN-spired!
I have had a board on Pinterest named
"Copy This?"
...but I got to thinking...
that's probably over kill.
Don't we pin
everything
so it can be copied in some form or fashion? I'm just wondering... because I have tons of ideas pinned, that I'd like to copy some day.
:)
Until then...I'll show you what I copied today.
This little hamper.
Isn't it cute? Don't bother clicking on it...the link is broken and the blog no longer opened. :/ But...how hard could it be right? It is made from an old pair of T.V. tray legs and probably a vintage sheet or something.
Here is mine. Cute, right? ...but a little bit different.
I didn't have a T.V. tray;
instead I used the legs off an old rusted out grill!
Hey, they were still in pretty good shape.
As you can see my hamper bag is a tad bit larger than the example...I DID NOT MEASURE. I eye-balled it with my calibrated eye. The ticking type fabric matches the curtains in my grandson's bedroom. Oh yes, this is for the boys...W. and E. and the inside is lined with navy blue...both sheets, about a buck each.
I had to sand the legs down a bit just to knock off the rough patches...and then spray painted it black.
(this was done with the help of my 11 1/2 yr. old grand-daughter; I was able to teach her the value in re-purposing and she learned to spray paint! )
My OWN daughter loves it and was so glad to receive it. She is trying to teach these two young boys a thing or two about picking up after themselves.
This will be a good start.
You might notice the chalkboard in the back ground of the above photo.
Here is a close up of it...
This is not for the Littles... it is for the Biggies! The Honey and I have some of our bigger grand-kids this week. They are visiting...
And they are quite a quarrelsome bunch of teens and pre-teens.
This is our 'life lesson' for the week while the kids are here, at Oma's house. Oh yes, they will know it, by the time they leave here on Saturday. In fact, I'm 48 and I just learned it in the last 6 or 8 months myself. But, Oh! what a powerful lesson.
This was a dual collaboration with myself and my 13 yr. old grandson creating this masterpiece. It was a tender moment, one I don't think either of us will forget for a long time.
I guess since I've pinned some chalkboard art... you can say I've done 2 pinterest project copies.
Sweet!
Create, Sew,Paint, recycle, re-purpose, surprise a loved one, give a gift, decorate, share a quote, encourage another, teach a child, nurture and artist, build trust and confidence in a teen, share my time and to Love...all to the Glory of God!
I love when inspiration strikes...it sometimes take me by surprise.
So how about you, are you Creating what you Pin?
Have you been Pin-spired?
Are you having fun with it?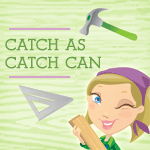 Do all things without grumbling or disputing;
so that you will prove yourselves to be blameless and innocent, children of God above reproach in the midst of a crooked and perverse generation, among whom you appear as lights in the world,
holding fast the word of life, so that in the day of Christ I will have reason to glory because I did not run in vain nor toil in vain.~ Philippians 2:14-16