...but if Donna can do it; then I know I'll be able to do it too. Here goes!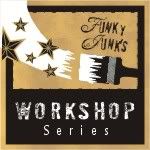 Ok -- so here are the pictures of my back laundry/pc/slash mudroom...oops! too many slashes! Well, you get the idea. This room is overflow.
It is awful! We've lived in this house 14 years THIS month and this room has always been the BANE OF OUR HOMES EXISTENCE...
it gets under my skin too
.
A few things about this room:
This is the room w/ the BACK DOOR.
yes! right behind that cheap dollar store vinyl table cloth (did I mention this room is drafty?)
It is also the room w/ the washer and dryer in it... ah, the Laundry Room.
Notice:
bleach, ironing board, bucket of home made detergent against far wall, basket of folded CLEAN- YES I SAID CLEAN LAUNDRY!!!!!! That cute little purse hanging from the cabinet -that is clothes pins. Yes, I love to hang laundry. Once the weather straightens up I'll be hanging out the laundry. The weather is sometimes nice enough to do that ,even in the winter , down here in TEXAS.
not always, but sometimes
oH, and underneath it all... the washer and dryer of course!
Sorry, I got a little sidetracked there... moving right along.
This is the room where tools (in this dresser) are stored. Let's see... books, and over flow from the other parts of the house. It never fails. I get this room organized but it never stays that way. Hmmm...

I have a project in mind already for this dresser too, by the way.
I don't think I have to tell you what
everything
is in the above picture... just suffice it to say. This is going to be my
NEW AND IMPROVED PROJECT & WORK CENTRAL
But FIRST I have to get rid of THIS...!
yes...
this is my

place of blog

. My computer.

(cue sound effect...time machine...going back in time...)

Let's see I moved it here when the kids were still living at home. (it was in the kitchen) I am NOT however moving it back there--- that place is still in the process of

becoming beautiful

.
I am going to probably move it to a spare bedroom. That will take another project day.
But oooh! I am so excited that Donna is lighting a fire under some of us to create a workspace w/in our corner of the world, to call our own.
So, the first of order of business is , well,
ORDER.
creating order out of
c
H
A
o
S
!
I don't know what exact steps will be taken to make this room functional...cause it is barely functional right now. But I know it involves a TON OF WORK! I'm tired already just thinking about it.
Oh yes, and the closet doors in the last photo are a closet that is crammed w/ objects de memorabilia... A.K.A
junk
.
I think I'll be incorporating that closet and utilizing it SOME how....
stay tuned.
If you don't have a work shop, place to work or craft or sew. Consider Donna's Funky Junk Workshop Series
Go there and check it out!