I wish I could say I thought of that. But I didn't. Those are God's words—upon Completion of the ultimate Sacrifice. That of His Son Christ Jesus—when he died for US. You may be asking yourself what does Re-decorating the Bathroom have to do with Christ and His Saving Grace?
Nothing.
And everything!
This isn't some kind of spiritual transformation. No. It is just a commonly used room in my home that was in serious need of a makeover. The fact of the matter is…God created me- and He knows how I procrastinate. Some times that is a good thing; it keeps me from running ahead of the plans He already has for me. Sometimes it is a sinful thing… and it keeps me from doing what He has for me to do.
It keeps me from accomplishing things—and it drags me down in my spirit. This is me sharing some accomplishment~
Last month I started RE-decorating my bathroom. It was in serious need of freshening up… I took it from a Coke and Smile
To Cottage-y Wonderful!!!
I used DIY Chalk Paint here on the corner shelf, below on the linen cabinets (YES~ I finished painting them! and here)
I did away with the Coca- Cola elements; but kept some of the red touches, even though I had a thread of blue running through the new decor—I like the way the red and turquoise compliment each other.
I got a little creative in some areas and painted a cutesy little sign.
I love the fresh look of the whites, creamy beige and reddish brown wood tones… I tried to use things I had already and liven them up.Being thrifty is key!
The vanity had been painted red and white
…I used the DIY chalk paint here too. This is paint I mixed myself with Ooops! paint and I used a watered down beige brushed on and wiped off for a glazing detail. I also covered this with Minwax paste.
I like how it turned out.
I have this old "honey pot" or "thunder bucket" as some would call it. I lined it with a vintage pillow slip, I like the colors in the flowers and tied a piece of linen dresser doily to the handle. It holds spare T.P. rolls. :)
My favorite (and apparently yours, too) all time project~ my papered floors.
I love the way they make my bathroom have an even more cottage feel to it. They've been a pleasure for me to see when I come into the bathroom, they compliment my cabinetry now and they're super easy to clean!
The window treatment I had changed out way before February—when I was starting to get the itch to change things up. I used twigs to make the curtain rod—totally free!
The curtain is a vintage dresser runner with little flowers embroidered on it. .
The scalloped paper book pages though rough, and uneven—lend to the cottage feel too;
and I lit the candle this time, so you don't have to imagine it being lit!
Lastly, the thing that makes me smile is being able to switch the light on and off when ever I want… I don't have to stand in the dark groping around for the PULL CHAIN any longer~
My bathroom is small but it is packed with all the little homey cottage touches I love now. You know one of the reasons I think I'm so happy with it?
Because It IS finished!!! Yes, I do lots of little things around my home and I show you a lot of my inspirations and aspirations… but I hardly ever get to show you a finished Picture Perfect Room.
Well, this is it. I don't know that it's magazine worthy, but for me –It is finished. One of my favorite phrases of all time! I don't know how God must have felt that day—when His Son uttered those words; but He made me to be creative, and He wants us to see things through and do them unto His Glory. He also gave me this home to be a Good Steward over and doing it on a budget is a must for me.
I'm happy I was able to see it through---Now onto the rest of the house!
Before: HERE
linking here:
FJI-SNS 139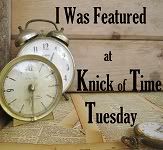 Also Posting here::
FJI SnS #152 ...WINDOW TREATMENTS
Just so you know I didn't do away with my Coca-Cola Girl… I hung her outside the door in the Utility Room…
She still greets me with a smile!
The grace of the Lord Jesus Christ be with your spirit.
~Philippians 4:23