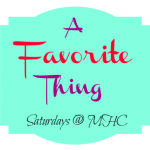 I'm joining in @ MHC where Claudia has a weekly 'A Favorite Thing' party.
This is a diorama that was in my mother in loves things. I have never had a dollhouse--except for a Barbie house when I was a girl. But I thought I might give this little room a makeover...I don't know the first thing about miniatures and dollhouses, though.
(that's why I'm showing this here at MHC)
It's about 8" x 10" and
just one little scene...but so quaint.
While it's not a favorite thing of mine...that I searched out and longed for myself.
It has some meaning to me...
because it belonged to my mother in love.
I like the CABIN feel this room has. It needs some attention and TLC.
It needs some glue in the corners...
And some explanation.
There are groceries on the shelf. Juice and 'Triscuits' (only very faintly seen, in the right light). The piece on the left ...don't know what that is; as well as, the round piece on the right.
I don't know what they might represent.
The butter churn is missing it's handle.
The curtains are faded.
There is a layer of dust throughout.
There are clumps of glue where there shouldn't be...
And! the clock face is crooked.
It needs a Remodel!
All of this could be repaired and made over.
I'm wondering how much of a make over to give it?
Do I keep the wood and Cabin feel?
Or paint it and give it a cottage feel?
I don't know that it's of any monetary value...so to change it up and love it and appreciate it--would certainly have made my Mother in love smile.
Claudia posts quite often and shows the most darling photos of her
doll house.
I love her little house. It is fun to see what she comes up with while decorating, painting and 'spiffing' it up in her spare time!
Also,one of the very first blogs I ever read was
Dear Daisy Cottage
. Kimberly doesn't blog there anymore; but, if you've not ever been there you can still go there and read.
I loved seeing photos of her DOLLHOUSE. It is wonderful. You can read all about it
here
.
While you are there-- be sure and have the volume on ...she has the most beautiful music playing. I still go there on occasion just to listen to her playlist!
It's just something to tinker around with and I wanted to share it. Claudia said she'd be interested in seeing photos...
So, there you go Claudia!
"The Little Cabin"
She looks well to the ways of her household and does not eat the bread of idleness. ~Proverbs 31:27