Since getting it... I've been taking lots of picture, as you can imagine.
I found the manual online ...and have read up on it whenever I get a second.
Like a good little student.
I have found lots and lots of willing....and some not so willing photo subjects.
I'm enjoying it... :)
In the old days I would have ROLLS of FILM waiting to be taken and developed...wait, I STILL have some of those in a brown paper sack ...some.where.
Now? I'm using an 8G card with the OPTION to ERASE after viewing my experimental photos... oh yes, this camera has an delete function... but the manual calls it ERASE. I almost didn't find it. I forgot to look for the icon of the little trash can!
So rest assured... I'll be taking lots and lots and lots of pictures. I won't make you sit through and look at each and every one though... I know you're happy about that!
So that you and I, both, can get on with blogging...
and LIFE...
I'm bringing back my
NON-SEQUITUR photo feature.
(that's where I insert a random picture into a post...you know having nothin' to do with NOTHIN'...non-sequitur...MUCH LIKE MY BLOG!)
I know.
Don't you just love it?
I'm hoping for your sake...you're able to see a marked improvement in my photo skills, too. I don't know that my photo subjects will be much different from what you are accustomed to seeing here...but surely, the photo quality will be much better.
Surely.
I hope.
We'll see.
I think it is safe to say, that my favorite thing this week ...is this camera.
Sharing it here: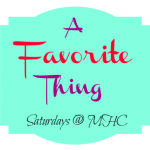 MHC A Favorite Thing #43
(hop on over and see what else is Favorited by bloggers like you...and say Hi to Claudia too, for hosting such a sweet party!)
Bless the LORD, O my soul; and all that is within me, bless His holy name. ~Psalm 103:1