These are a couple of 'before and afters' of things growing in and around our yard; using whatever "pots" I have on hand for plantings.
My 2 tier 'stacked pots'
(and how I got them)
-- the sedum was almost decimated last year by Audrey Chicken. Since she is no longer with us; and the fence has been put in place to keep other chickens from encroaching upon my POTS... The Sedum is doing quite well...and the vine, I think is a Muscadine Grape vine...though it has never produced any type of grape.
As vines go...
It is however, THRIVING!
This was our corn and potato garden... The corn has since gotten quite tall and has tassles...
Mmmm... corn should be coming soon. :)
The weeds became too much.
:/
We're switching back to raised beds out here next go around.
The ants were also invading...so we dug up our potatoes. A little early. But we were trying so hard to save our little crop.
Here is our basket...what is left. We have eaten some potatoes already too. :) Quite yummie!
New grape vine. First in the second pair planted this year.
We bought 2 grape vines from Tractor Supply. They didn't make it.
This one and one other...we bought at a local nursery, where we've been buying all our plants lately." Mother- Daughter- home -nursery- in- their- abundantly- filled- garden -of- a -yard"
They seem to have a thriving little business of plants and both have a green thumb...I guess you can say, in their case... "the fruit doesn't fall to far from the tree." :)
Was growing marvelously...
Guess what?
The Monarch Caterpillar REALLY DOES LOVE DILL.
They ate it all. Aw, well. I'll plant more and hopefully get to benefit from it this time.
For now...we'll just enjoy the butterflies in a few weeks when they come back around. :)
This is a pot of lettuce...the chicken wire is to keep the chickens out. So far it has worked.
See no chickens.
I've got lots of different places that I like to grow things. I am just using whatever works. Some of it is ON THE JOB TRAINING... But I'm enjoying gardening more now than I ever have! These quirky little wild places make me smile. :)
I'm linking here: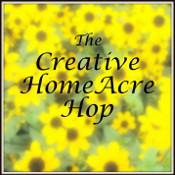 "Study to show thyself approved unto God, a workman who needs not be ashamed, rightly dividing the word of Truth." ~2 Timothy 2:15